Well, the thick jackets have been replaced with my pink hoodie and my snow boots are retired for a pair of flats. Spring has finally come to Scotland. At home we didn't really have spring. Cool just kind of changes to summer over the course of a weekend. The nicer weather, abundant sunshine, and longer days has made us all a bit more adventurous. The past few weeks I have made a few trips outside of the city.
The first weekend in May was World War II Day at the National Museum of Flight in cow pastures outside the city. Me and my gang got up early in order to make it there in time with the crazy bus schedule. Alas our efforts were in vain and we got to spend some time in Haddington before admitting defeat and taking a taxi to the former airfields. Haddington is a lovely town and we had lunch by a little river with the ducks swimming past. The Cathedral and town square was so pretty! It was the cutest little town bringing me to fantasize about a summer afternoon wedding in one of their old churches. Scotland is loaded with such charming little places.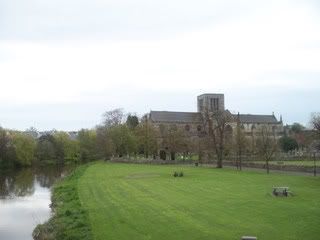 The Museum of Flight was packed with activity. They had a parade with the old tanks and trucks serenaded by bag pipers complete with rein-actors. I got to have my makeup done like they did in the 1940s. We toured the museum also. We got to sit in a cockpit and look at military airplanes. I was stunned by the sheer size of the now retired concord jet which used to be able to make a trip between London and New York in three hours. We tried to throw tennis balls in a cut out of Hitler and other old time games. However, my enjoyment was most complete because of my friend, who works for the museum, dressed in a Royal Air Force uniform. We finished the day by sitting on a pile of rocks in the field awaiting the return of the bus we had original missed outside the museum. I cannot wait for the July air show at the museum!!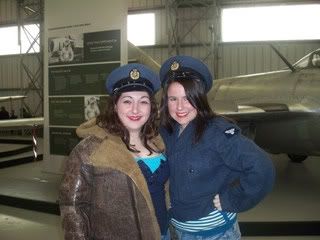 Last Wednesday, in order to collect more research on my topic, I made a trip out to a little town called Coupar Angus. It was a small, nice, little town like Haddington. My only way of getting there was by being picked up by car from the Dundee train station. The fields with flowers and cows were beautiful. I was returned early for my train and had several hours to kill in Dundee. Dundee is a fairly large town on the seaside. The town square had recently been redone, decorated with statues and fountains. Their excellent shopping kept me entertained for the majority of my time there. They had two full sized shopping malls (not the most common thing in the UK) a few blocks form one another. Even a two story Primart! I soaked up the sun in the grassy patch next to their cathedral. The large seagulls disturbed me a bit by their proximity to me as I ate my biscuits (cookies). There was also another church with a large steeple and gargoyles proudly perching there watching the town. I was sad to leave Dundee because in that short time I had developed quiet a fondness for it. Fortunately, I was thoroughly entertained on the return train as it passed the eastern coastline of Scotland. The lighthouses on distant islands and rocky coasts reminded me of how bonnie Scotland really is after the long winter.